Bali holiday itineraries can quickly fill up trying to satisfy everyone's expectations – I want relaxation, you want adventure and our friends need to upload impressive new images on Instagram. Let's do this! In-villa spa therapist: check; romantic dinner: check; snorkelling trip: check; WiFi: check – and at the end of a satisfying stay, everyone wants the same thing: souvenirs.
Picking up gifts and treating yourself to something exotic is part of the touristy experience. This is especially true in Bali, where there is a great selection of things to buy – genuine leather bags, wallets and sun hats are priced well but are not difficult to find elsewhere. Souvenirs which scream "I love Bali" are indeed popular buys, like key chains, pens, T-shirts and even tattoos of Mt. Agung. Although they're all Island of the Gods' exclusives, those aren't the quality goods we recommend to our guests.
Our idea of the best Bali souvenirs are goods made from local materials that represent Balinese culture and traditions of artistic expression. The ornately carved statues, exotic Batik patterns, beautifully adorned temples and carefully handcrafted everyday items are what makes Bali so special and memorable. Well, not all of these fit nicely into a suitcase.
So which asli (real) products from Bali are beautiful, useful items you can easily carry with you to be reminded of Bali for years to come?
With a bit of effort, you can take home keepsakes that are true to their origins. This list of souvenirs worth buying has pictures to inspire your shopping wish list and tips about where to go to find Bali's treasure without a time-consuming hunt.
Patung Kayu (Wood Carvings)
Barong masks are a prevailing Bali souvenir. Barong is Bali's guardian spirit, and masks worn to play Barong and Rangda in the traditional dance about good and evil are sacred. Nothing is more representative of Balinese art and culture than a hand-carved Barong mask made from local wood.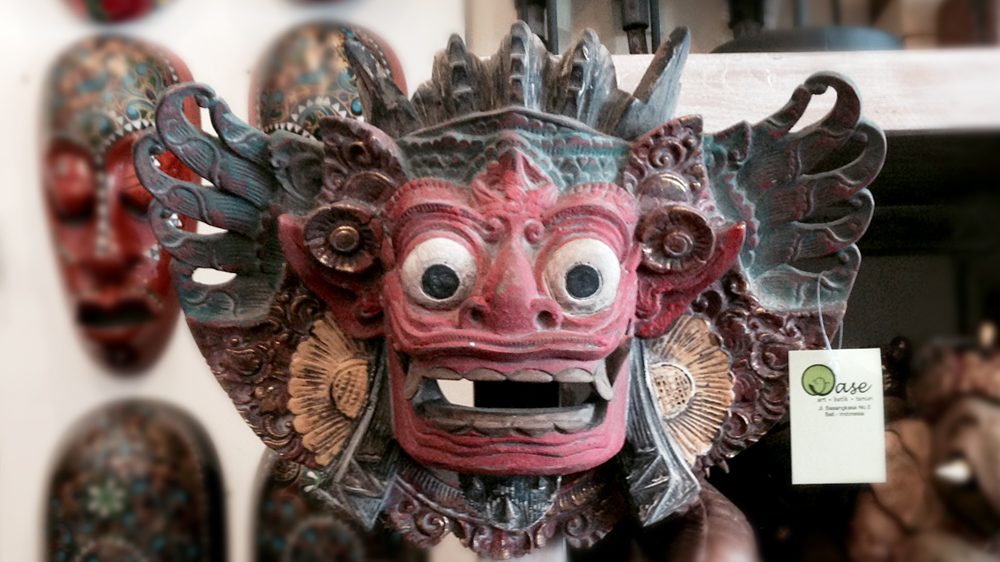 Matching wood figures seated together to bring good luck and fertility to couples. Balinese pairs sit with their hands together in a welcoming gesture, making them easy to tell apart from similar Javanese dolls.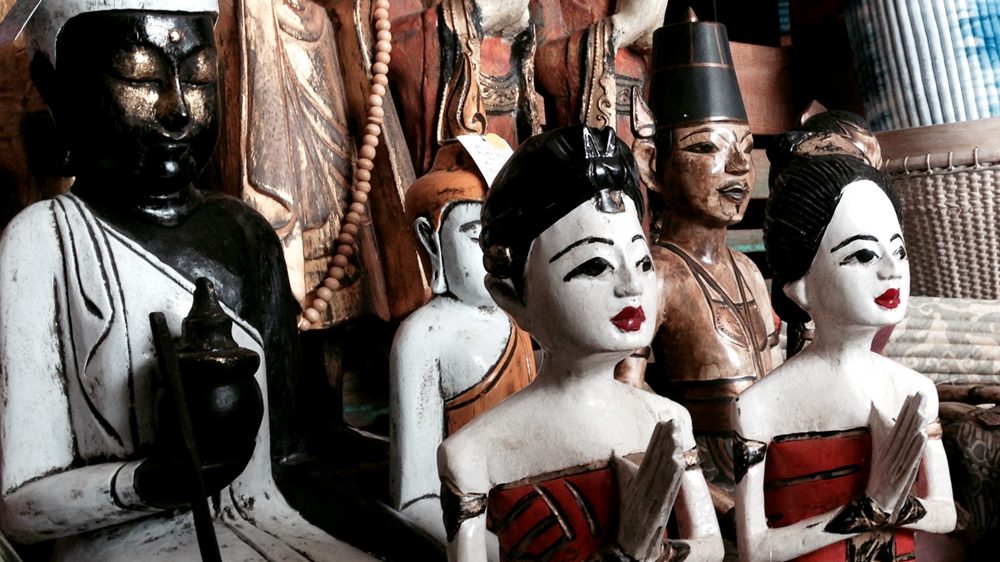 Wooden bowls, serving trays and other dishes are great for serving food or as décor. The best are made from a single piece of wood and feel heavy without being cumbersome. Some of the most beautiful hardwoods local to Bali are teak, suar, rosewood and sonokoling.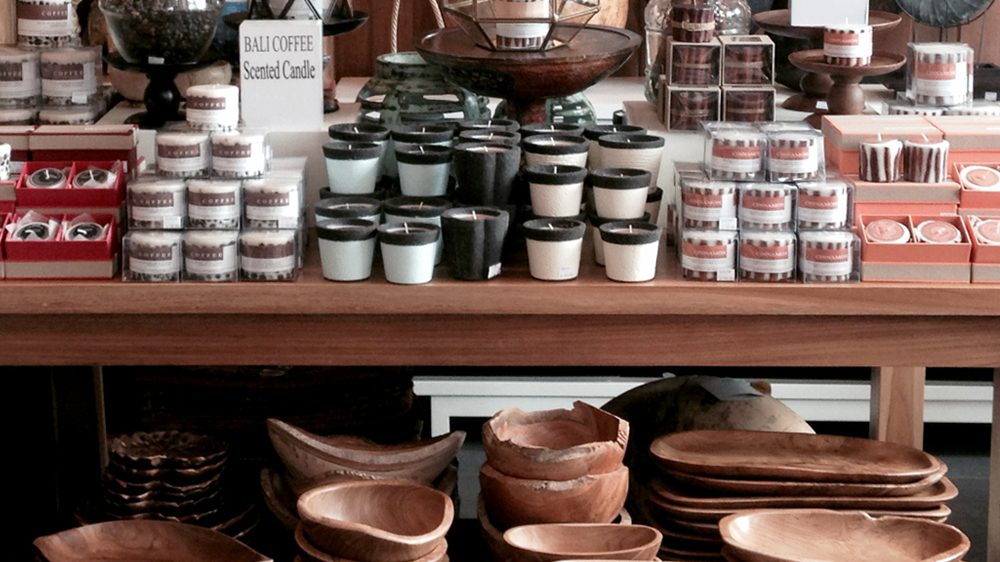 Baskets, boxes, platters and hats with different weaving patterns are handmade in Bali from rattan and wicker sourced from palm plants in Indonesia's forests.
Trendy updates to traditional designs are also popular. Modern indeed, high-quality Balinese home décor, from baskets to trays and even candle holders and fashionable wicker bags from Bali, are also available to purchase online if you missed the souvenir train.
Jewellery
Gold and sterling silver from Bali are of good value. Most of the locally handmade jewellery uses natural stones, corals, bone and semi-precious gemstones such as onyx, jasper and pearl which are sourced from Bali and other regions.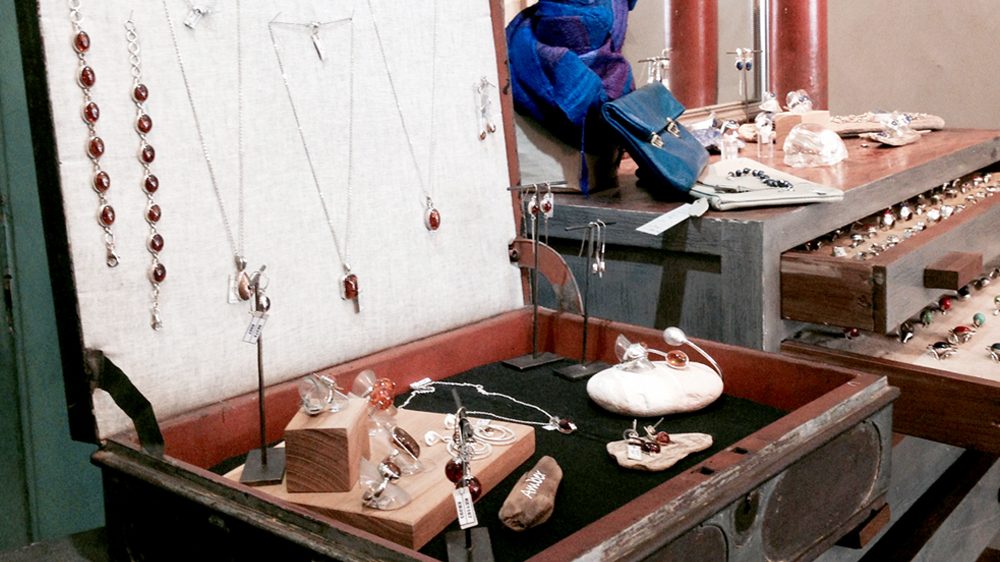 Traditional Balinese silver jewellery is decorated with tiny silver beads and curving wirework in beautiful repeated patterns handmade by skilled Balinese silversmiths.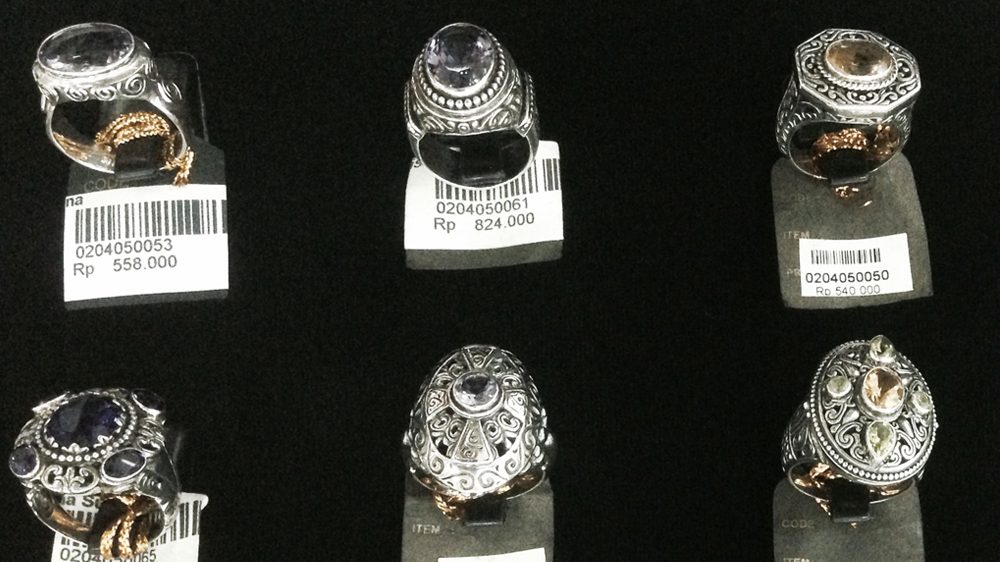 Silver jewellery with traditional designs, which is handmade or made by casting from locally sourced silver and copper may or may not be genuine Bali silver. Bali's jewellery making traditions come from certain areas such as Mas and Celuk, but jewellery from Bali is sold in speciality jewellery boutiques as well as regular souvenir shops all over the island.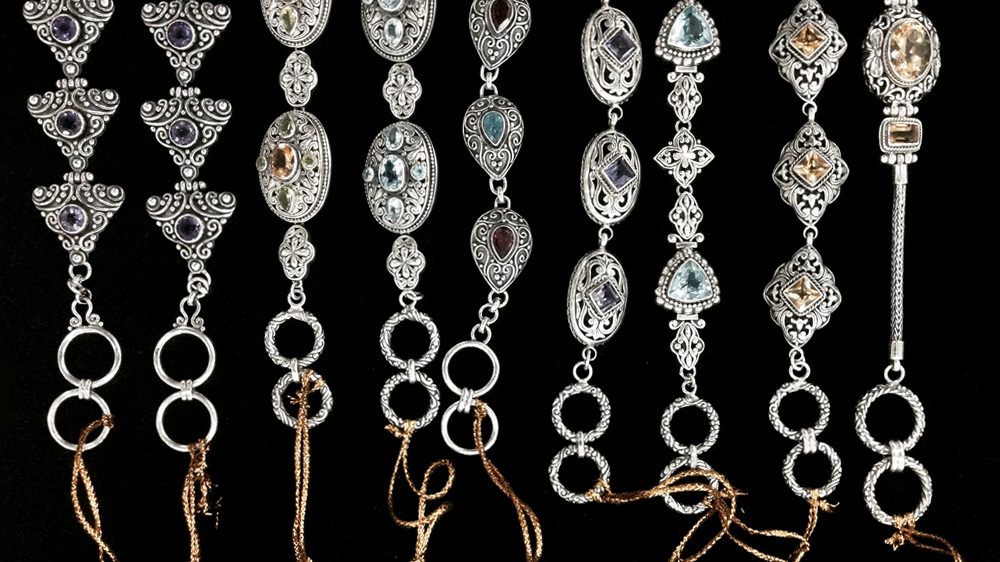 String bracelets don't last forever, but for $1 each, they serve their purpose. Perfect for adding colour to any outfit, the eclectic bracelets and necklaces are seen all around Jl. Legian is so Bali.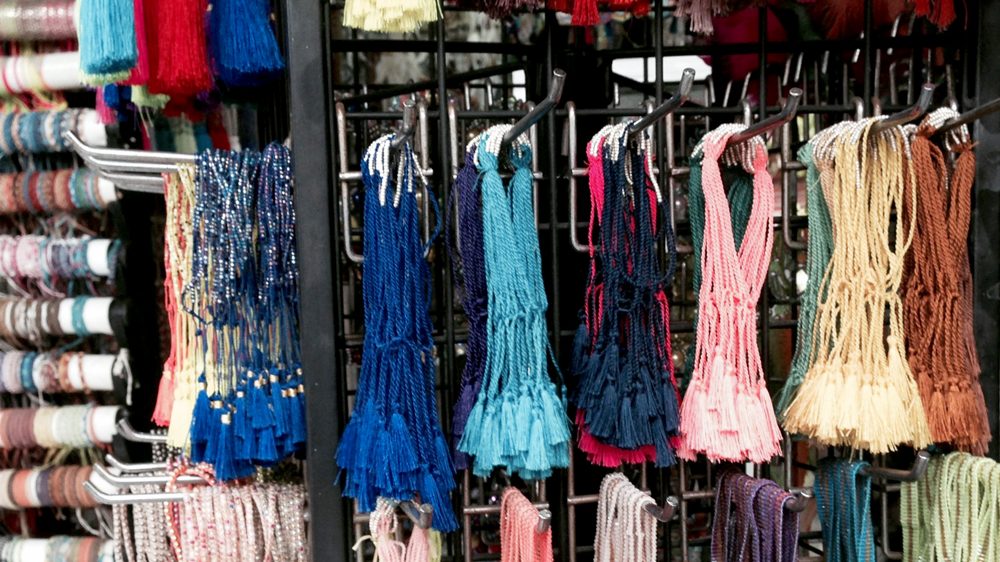 Textiles
Sacred Balinese traditional textiles called bebali are handmade from cotton and natural dyes. There are three main types used for clothing and ritual – black and white checked poleng, red ikat cepuk and songket. Most shops also sell similar textiles from the other islands, so it's wise to ask about the designs you like.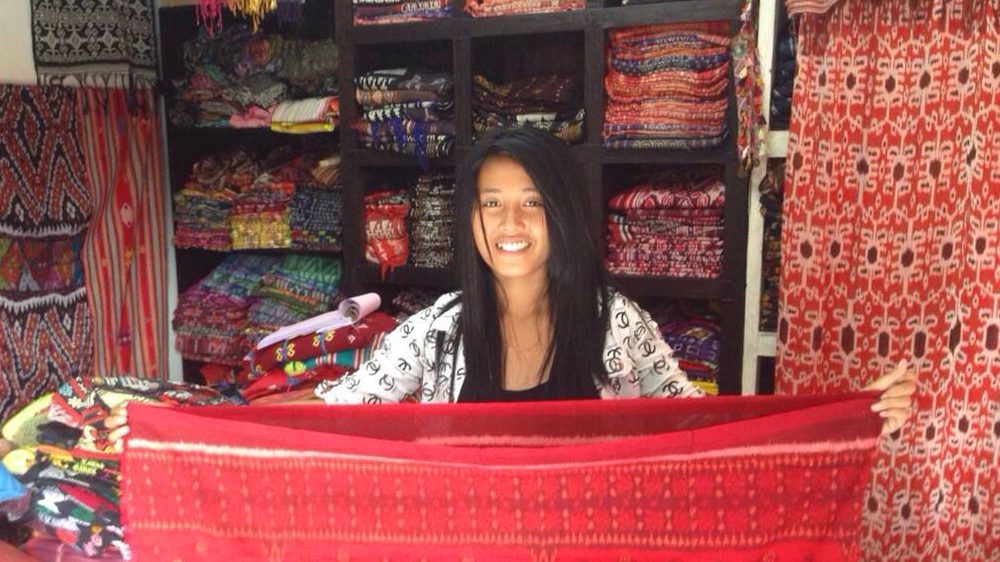 Factory-made silk scarfs and cotton sarongs featuring Indonesian Batik designs and floral patterns are just $3-$10 each. All of the handmade textiles once common throughout Indonesia are being replaced by manufactured cloth.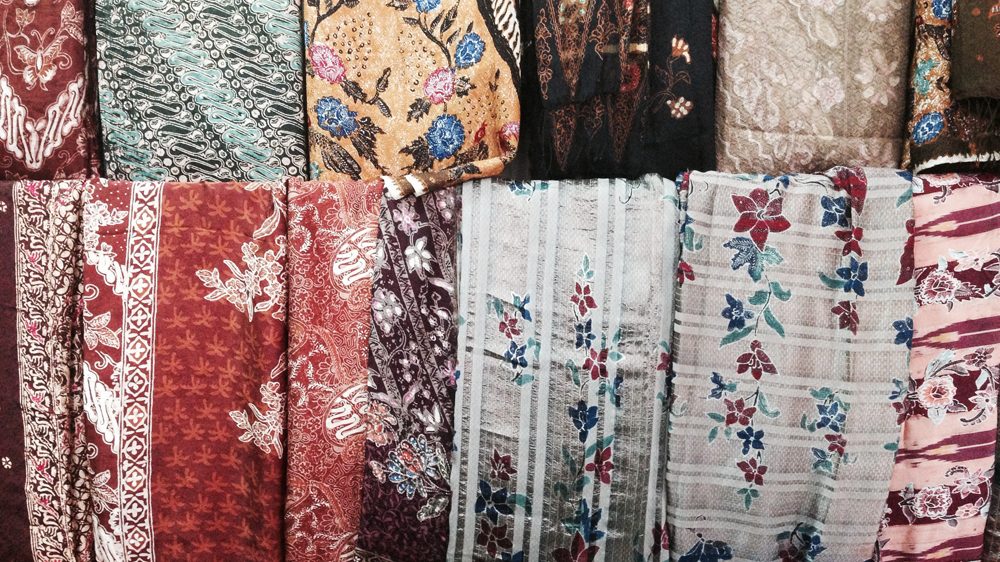 A Taste of Bali
Kacang Matahari is one of the island's most popular take-home snacks. These crunchy, dry, semisweet fried peanuts have a distinct and satisfying taste not easily found in the west.
Cashews also receive international attention. Grown and processed locally and responsibly, the delicious roasted cashews from Muntigunung are exquisite.
Coffee is a smart Bali souvenir. With its equatorial sunshine and volcanic mountain peaks, of course Bali produces more than party nuts. The entire Indonesian archipelago is one of the world's top producers of both robusta and arabica coffee beans.
Kopi Luwak has a smooth flavour and a premium price because it is made with beans consumed by a civet, a small mammal native to Southeast Asia. Many Luwak coffee producers such as La Pulina in Ubud have set up cafés for tourists to see the animals and enjoy coffee tastings.
Kopi Bali (or Bali coffee) is the island's generic standard coffee and is usually served black with sugar. While perhaps not a world favourite, this coffee is genuinely Balinese. Fancy a biscuit with your brew? Pie Susu (tiny milk pies) are an authentic sweet treat from Bali, sold by the box at souvenir shops and grocery stores.
Mandailing Estate specialty gourmet coffees come from prime coffee-growing regions around the country. Although not exclusively a product of Bali, their whole and ground coffee beans are sold at supermarkets in Seminyak (starting from less than $5 for 250 grams). Visit their coffee shop at Sunset Permai No. 3 Block E, Jl. Sunset Road, Bali.
Where to Browse

All of these souvenirs are called Oleh Oleh Khas Bali, customary typical gifts from Bali. The best way to find your favourite items is by shopping around throughout your visit, but there is also an easy way if you prefer to shop one time only or forgot about souvenirs until the last minute. We recommend to pop over to an outlet store or walk along the main shopping streets:
Sunset Road No. 88 Abian Base Kuta, Bali (and other locations)
Ubud tourist shopping
Jalan Raya Ubud, Jl. Bisma and Jl. Monkey Forest in the centre of Ubud are teeming with souvenir shops and cafés.
Seminyak souvenir shopping
Jalan Raya Seminyak (parts are also called Jl. Basangkasa and Jl. Legian) is Seminyak's main street for souvenir shopping and it runs parallel to the beach about two blocks in from the shore.
Take a well-deserved break and wind down after a long day by booking one of our Bali villas.