We present you the best five (extraordinary) activities you can only experience in Bali.
Be a Rascal
Take a day trip on Rascal – a handcrafted 31-metre phinisi cruiser that launched at the end of 2016. Hewn from ironwood and teak, Rascal is a luxuriously modern yacht with chic interiors that give a nod the beach house style of The Hampton's.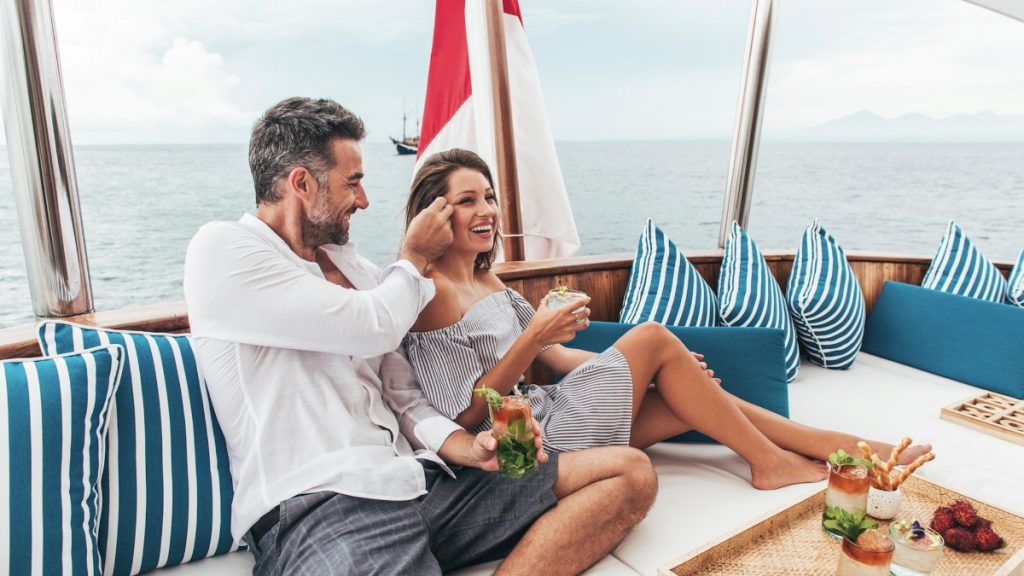 Life is a lot more beautiful on Rascal. Image credit: Ultimate Indonesian Yachts
Rascal's pared-back style delivers hospitality of the highest order: among the crew of nine is a talented young chef working the kitchen, which was designed by Bali's famous Watercress Café's executive chef Josh Job, and the award-winning mixologist outfit Proof & Company inspired the cocktail list. Onboard, for your leisure and pleasure, is fishing gear, diving equipment and a personal dive manager, two tenders, kayaks, waterskis, a biscuit and a banana boat.
Visit the beguiling island and deserted beaches of Nusa Penida, the hot surf spots of Nusa Lembongan or sip cocktails during a private and romantic sunset cruise.
Chartering a private yacht is one way to experience the spellbinding beauty of Indonesia in style.
Flying High
Soaring high above the lush, jungle-carpeted mountains, sparkling crater lakes, dazzling Kuta coastline and active volcanoes that leak steaming sulphur into the atmosphere are just some of the highlights of a helicopter tour in Bali.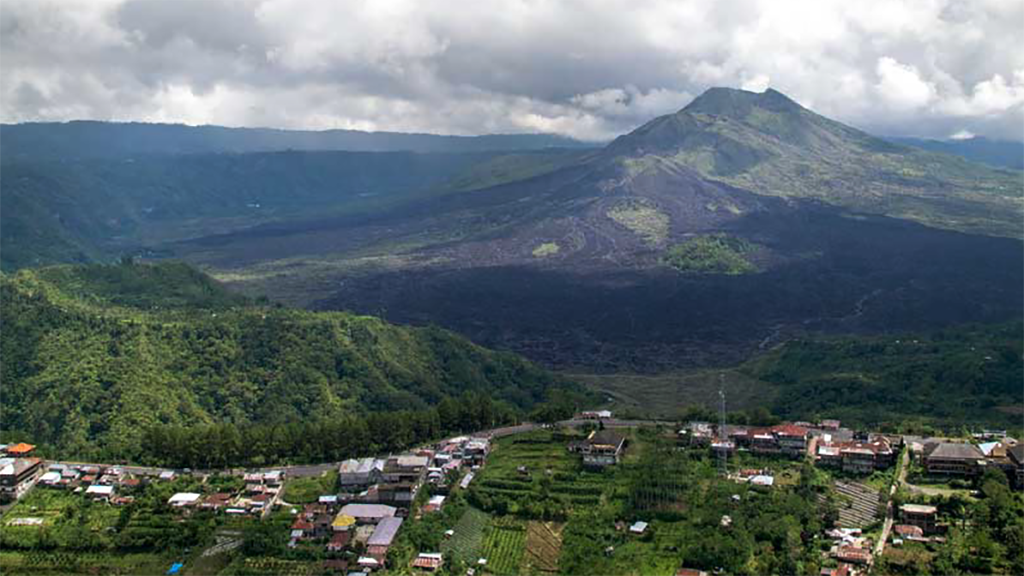 This island of the gods is an awe-inspiring visual package, with verdant rice terraces that are so exquisite that UNESCO has marked the region for all-time preservation, set alongside ancient sea temples such a Tanah Lot – perched high on top of a rocky outcrop that's inaccessible at high tide.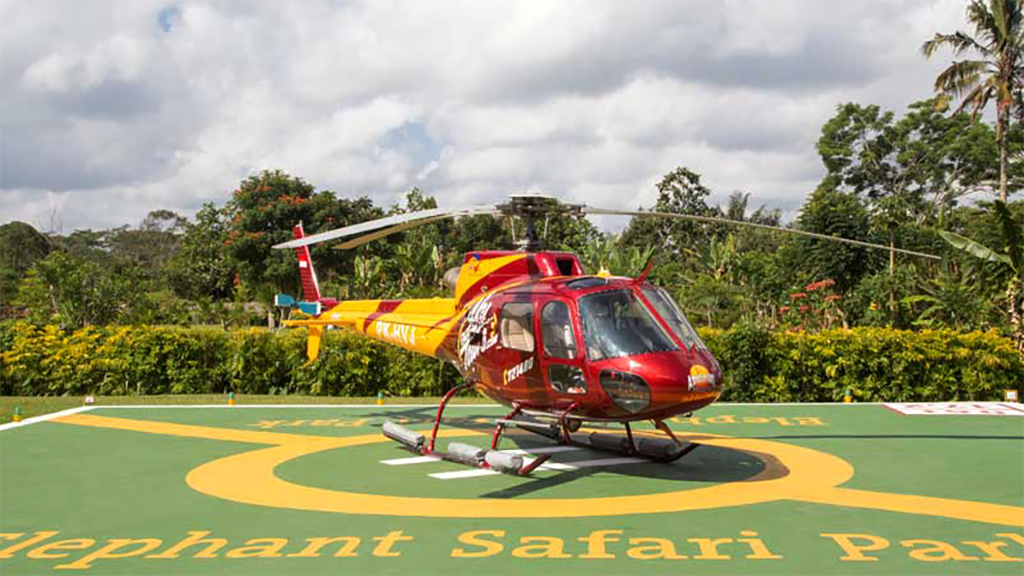 Mason Sky Tours operates Bali's first high-end Helicopter tours to selected destinations with great views of Bali from the air.
Mesmerising Sunset Trance Dance of Fire
The Kecak dance is an extraordinary display by 100 or more bare-chested men clad in checkered cloth, sitting in concentric circles, swaying, standing up, lying prone as the story of the Hindu epic – the Ramayana unfolds around a raging fire.
Kecak dance at Uluwatu Temple. Image credit: ewigbalitour
Voices chant in a trance-like rapture while the gamelan beats. A woman is stolen by a demon from her princely husband and the story tells of the challenges the young prince and his brother must overcome to rescue her. As the sun sets and the sky darkens, the story ramps to its climax when a monkey king sets fire to a castle. With the orange flames and embers in the middle of the stage, it's stunning to observe.
Bali's two most celebrated troupes for this sacred performance are the Taman Kaja Community in Ubud, where the performance is staged in the temple Pura Dalem Taman Kaja and the equally dramatic setting of the sea temple at Uluwatu on the southern tip of the island.
The Kecak and Fire Dance Uluwatu is a must-see for those who would like to see history come alive.
Underwater Journey on a Scooter
Fancy a scuba diving experience that's free of heavy air tanks, complex equipment or costly certification?
This underwater scooter has an operating depth of 20 metres and its own breathing environment. Ride over shallow reefs and discover beautiful underwater scenes punctuated with schools of tropical fish and other marine life.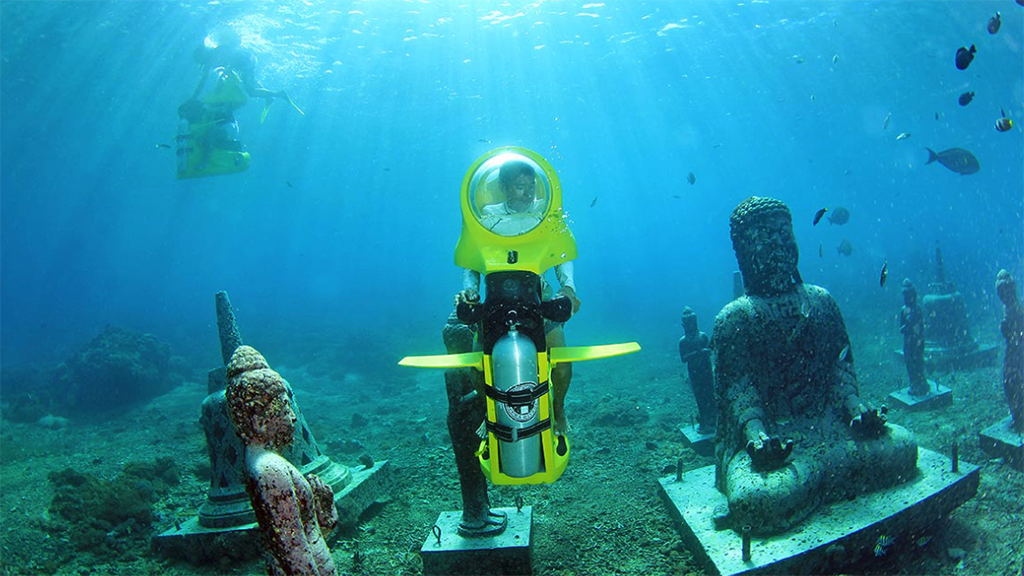 Image credit: Bali Underwater Scooter
The underwater scooter works in the same way as its land-locked sister: hold the handlebars, start the controls and point to where you want to go. Fresh air is pumped continuously into a clear bubble helmet from an oxygen tank attached to the scooter. Typically, a trip lasts about 20 minutes and goes no deeper than three metres, which provides a comfortable environment and gives fantastic visibility.
Qualified PADI divers deliver a thorough brief that includes basic piloting, operating and how to communicate with simple hand signals. The scooters are connected to a floating security buoy line to control balance and as a safety feature. Professional divers escort adventurers during the underwater exploration.
Take a Bali Underwater Scooter to get the underwater diving experience without the requirements of the usual scuba diving experience.
An Astounding Spa
Escape into the fantasy of Prana Spa, and relax in this magnificent palace that has been inspired by the legendary moguls of 16th century Rajasthan.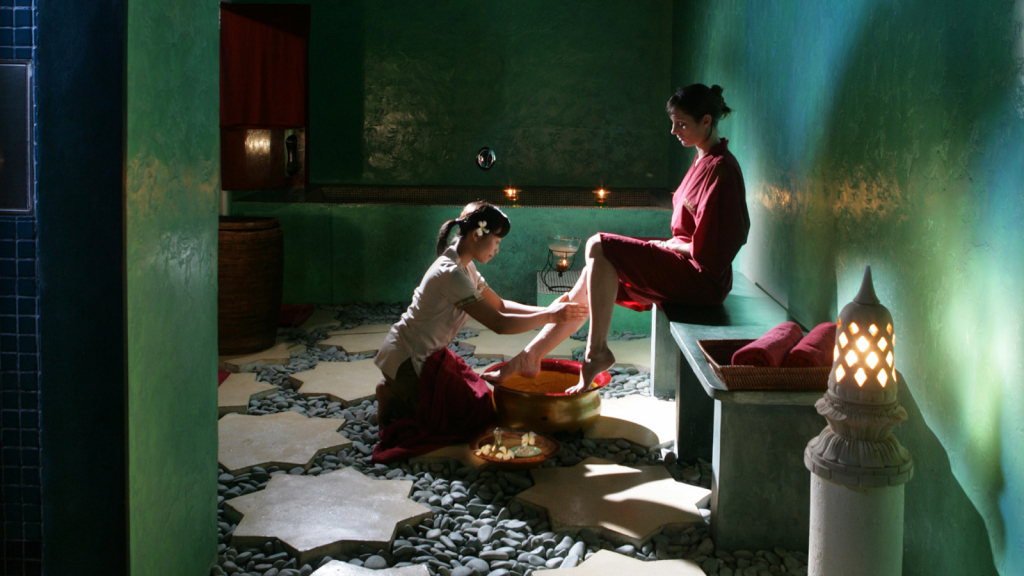 Image credit: Prana Spa
This is a seriously opulent world, with hot and cold dipping pools flanked by shuttered alcoves. Inside are domed ceilings with hand-painted night skies of glittering stars. This mystical and exotic aesthetic with lavishly carpeted floors, ancient sculptures, perfectionist staff, delicious dining and extraordinary treatments all merge together into a reverie of spa-time paradise.
This highly awarded spa has a couple's room that's fit for a queen and her consort. Think of a mosaic-tiled, clam-shaped bath filled with Cleopatra milk for soaking; wine and canapés; candles; 24-karat gold and pearl-powder body scrubs; massages and pampering beyond your dreams.
The lavish couple's private room. Image credit: Prana Spa
Start your day at this amazing escape with morning yoga on the delightful rooftop and then slip into three, four or five hours of spa luxury that will leave you in a state of other-worldly wellbeing.
Prana Spa Seminyak is one of the largest spas in Bali, and has strong influences from Indian and Middle Eastern exotic architecture.
There is a multitude of activities and places to do and see while you're in Bali, which you can learn more about at The Elite Magazine. The best way to enjoy the island is in the comfort of your very own luxury villa, and we have the perfect selection of villas for you.
Cover image credit: Ultimate Indonesian Yachts.