We recently welcomed famous Indonesian actress and entrepreneur, Naysilla Mirdad, at Villa Zelie, a heritage chic, five-bedroom holiday home in Canggu, Bali. Looking for a break from her hectic routine, Naysilla checked into this private retreat with her friends for three blissful nights. With the pandemic forcing us to be cooped inside our homes, even A-listers need a breather from their monotonous routine and busy lives!
Though her time away was precious, we managed to sneak a tête-à-tête into her schedule. We present to you – Naysilla Mirdad, uncensored and unguarded.
A day in the life
With the pandemic taking all sense of normalcy away, we can't help but think that one must slow down during these challenging times and revisit hobbies that we didn't have the time to pursue earlier.
Naysilla agrees. She shares, "Life is hectic as I am still working while following the strict health protocols set by the government. We always undergo a swab test before the shoot and do another test after. To wind down, I have started cooking more often. I enjoy making simple dishes like Thai Chicken Basil."
What else do you like to make, we asked her. "I don't really have a sweet tooth but I like to try new things, so I often prepare Martabak Manis which is a kind of Indonesian pancake stuffed with something sweet or savoury like chocolate, cheese, etc.". How we would like a taste of that!
View this post on Instagram
The Villa
No ask is too great when it comes to caring for our guests. All our guests, including a long list of VIPs who have stayed at elite havens, check out with a smile on their lips and hope in their heart to come back soon.
Naysilla was quick to answer when we enquired how her stay was. "Delightful!" she beamed. "I had plans to go to some beach clubs with my friends during sunset, but we ended up just staying in the villa. The same incredible experience and so much safer in the current situation." Truer words were never said.
"We literally never left the villa except when we needed to get cash. We also had an in-villa yoga class arranged by the Villa Manager, which we loved. And swimming! The pool was lovely. I took this time to refresh my mind and body as I'll be starting a new mini-series project soon."
As much as the inviting outdoors, renowned beach clubs and restaurants plus glittering beaches in Canggu are hard to resist, tearing yourself away from the villa is an obstacle in itself. We feel you, Naysilla.
Sumptuous Food
It is no secret that celebrities eat at some of the best places in the world and thus have very high standards when it comes to food, especially during a vacation. When asked about the culinary highlights of their holiday, Naysilla couldn't stop raving about the food crafted by the private villa chef at Villa Zelie. She especially loved the juicy and delicious kebabs they feasted on during the BBQ dinner on their last night. We're drooling already!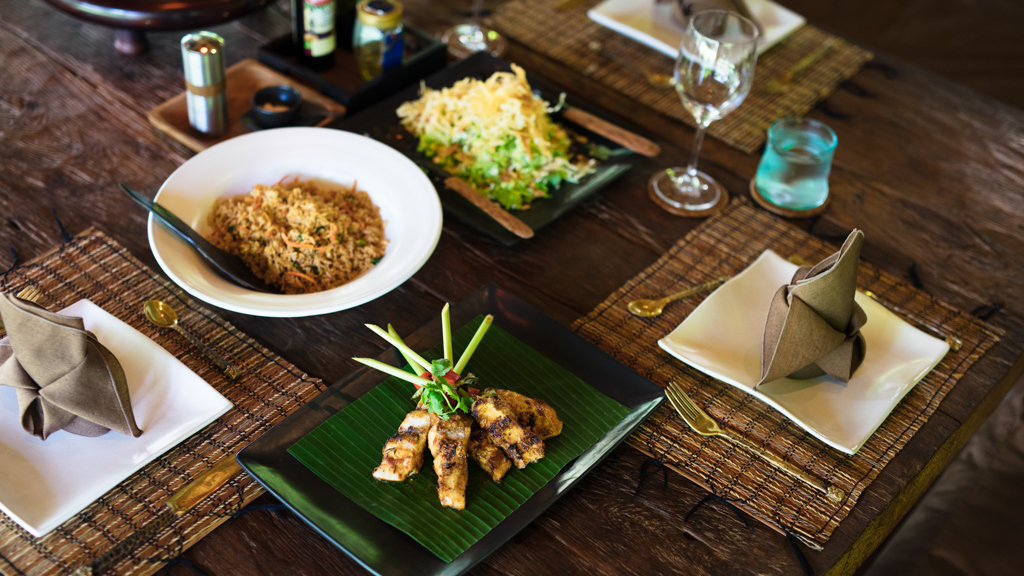 Naysilla's Favourites
Arguably one of the most difficult questions to answer is when we ask our celebrity guests what their favourite part of the villa was.
"Is it too much if I say everything was my favourite?" Naysilla smiled. "I really loved the unique and vintage design of the villa. The surrounds are lush and the fact that it's actually close to Seminyak and Canggu is really great."
Staff and Service
When asked about the service offered by the in-villa staff, Naysilla couldn't help but gush about the five-star treatment they received.
"I'm in love. They were very welcoming. Nice and friendly, yet very professional. They would go the extra mile to make sure that we were happy and content during our stay." We'll let the team know, Naysilla. We aim to please.
Memorable Birthday Celebrations
Timing was on the young celebrity's side when their villa stay coincided with two of her friend's birthdays. "It was Sheila and Keinda's birthday," she shared. "Their birthdays are two days apart, but we decided to celebrate them together. I threw them a birthday dinner and the chef did not disappoint."
View this post on Instagram
Holidays Galore
Speaking of special celebrations, Naysilla, who hails from a Muslim and Christian background, highlighted her experiences and got candid with us. "I would like to say that I am very lucky to have great parents. They really did a great job in raising us. Since we were young, we were told to respect each other's belief/religion and appreciate differences. We are all different but equal. We never felt any identity crisis. And the best part was, we received tons of gifts! We would receive Christmas gifts from mom and Eid al-Fitr gifts from dad." She added, "We usually spend Christmas in Jakarta since most of my mom's family is there. We gather at the house of the eldest and have an open house. Meanwhile, for Lebaran, we usually do Mudik to Jepara in Central Java."
Regarding holiday delights, "The must-serve dishes for Christmas are Rica-Rica, red bean soup, Sambal Roa, and many other dishes from Manado as my mom is a Manado-Dutch. While for Lebaran, my dad's family recipe of Opor Ayam is the best ever! We'll also have Lontong and Beef Rendang. Gosh, now I'm hungry!" As are we, Naysilla.
View this post on Instagram
Travel in a post-COVID world
We all look forward to the day when we can embrace carefree travel once again. With locals stepping back onto sun-drenched islands, taking socially responsible trips domestically, everyone is itching to pack their bags and pen their itineraries.
We ended our chat with Naysilla as we asked her where she would love to travel to, once the restrictions ease up. "Japan, in a heartbeat," she said. "I've always loved everything about Japan. The people, the food, the place and the cleanliness. I recently learned that Elite Havens has some chalets in Niseko. I will definitely try to come and stay there."
We can't wait to welcome you to one of our Niseko chalets, Naysilla. See you soon.
We're glad that Naysila Mirdad and her friends loved their stay at Villa Zelie. It's no secret that holidays are made even more special when you're with your favourite people. And when asked if she would come back to stay at an elite haven, Naysilla flashed a smile and promptly replied, "Yes".
Want to hear more about other celebrities who vacationed at an elite haven? Click here to catch a glimpse of their experiences.