Elephants are amazing. There's something about their grey leathery hides, their tiny soulful eyes, their wispy mop-like tails and their playful trunks. Oh, and I love it when they run!
Given my penchant for Pachyderms I couldn't be living in a better place than Sri Lanka, land of the Asian Elephant. There are thought to be around 2,500-3,500 wild elephants on this 65,000-square-kilometre island, mostly living in protected national parks and reserves, which are connected via 'elephant corridors' – forested passageways.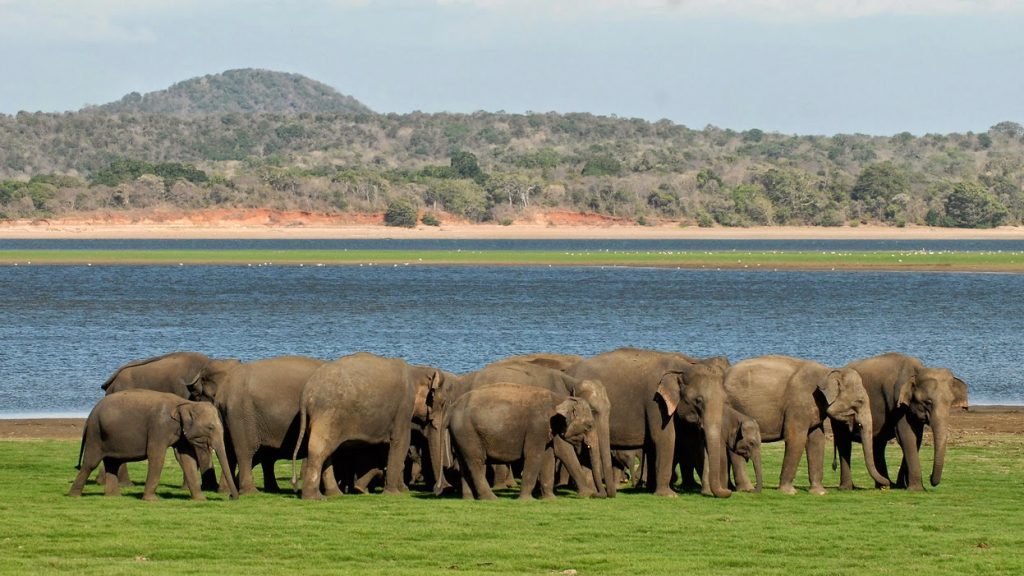 One of the world's most significant elephant phenomena happens in Minneriya National Park – a protected 8,890-hectare reserve within Sri Lanka's famed Cultural Triangle. Every year, from the beginning of the dry season – usually late August – groups of elephants start to congregate around the receding waters of the Minneriya Tank, a vast and ancient waterbody spanning some 4670 acres, which was built by the 'tank-building' King Mahasena in the 3rd century. This tank at the centre of the reserve never empties so when other drinking sources become scarce, elephants find their way here to drink, bathe and feast on the young shoots of grass that flourish on the edges of the tank as the water recedes.
This phenomenon, which usually lasts until the monsoon begins in October, is known as The Gathering. The term was coined less than a decade ago by renowned Sri Lankan naturalist Gehan de Silva Wijerathne, and since then crowds of visitors have come to observe these majestic creatures in their natural setting. As many as 300 elephants have been recorded at the tank at any one time; it's thought to be the biggest gathering of Asian elephants in the world. Minneriya forms part of an elephant corridor that links Kaudulla and Wasgamuwa national parks, all located in Sri Lanka's North Central region.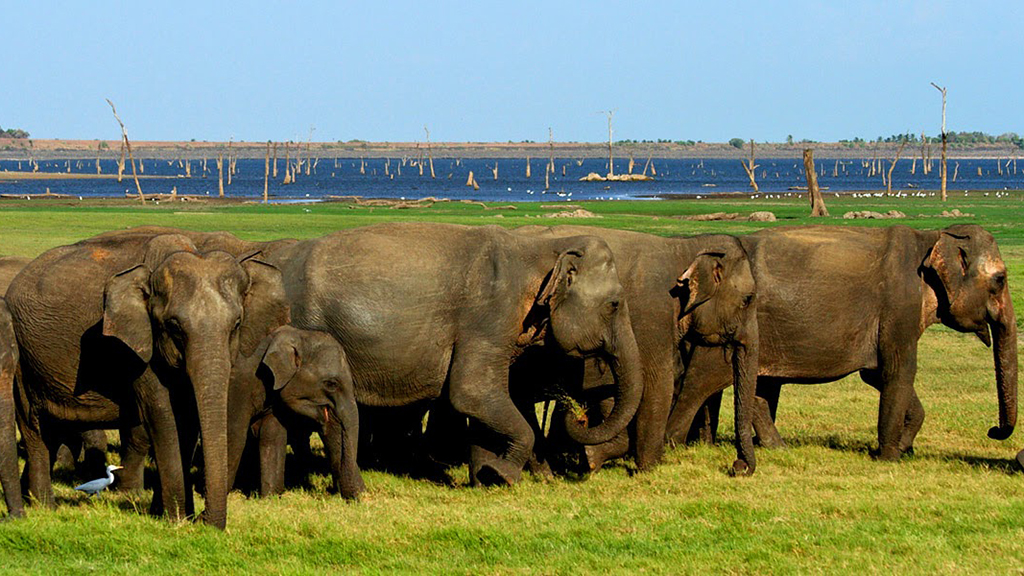 In September 2016 I was lucky enough to witness this natural spectacle for myself. The afternoon is the best time of day to observe the elephants, so I was at the park by 2:30 PM to meet up with my driver and tracker. Jeep drivers double up as safari guides, though trackers (some are former poachers) are often more experienced at sighting wildlife. Luckily, mine spoke English.
We drove slowly, taking in the park's scenery as our guide scanned the forest for any signs of movement. The park is a popular place for bird watchers, and it wasn't long until we caught sight of our first endemic bird – the ruddy-coloured Jungle Fowl. We also saw some spotted deer and a monitor lizard crawling through the undergrowth. Our path took us through forest and scrubby bush and then towards open plains where, ahead, we could see the shimmering water of the Minneriya Tank.
Suddenly the jeep stopped and our driver pointed into the bushes. I looked hard, but it was only after a few minutes that I spotted the well-camouflaged grey flank of an elephant. Then a leg. A trunk. And then another shadowy figure emerging into the open. It was a small group; a maternal herd with calves in tow. The driver killed the engine and we sat and watched as more hulking silhouettes emerged and moved confidently towards the water. Their wrinkled trunks danced like snakes as they tested the ground, sniffed at the air and then transformed into straws to drink from the tank. The calves, no higher than their mother's undersides, ran around the older elephants, and if one of them fell out of line, the older elephants would shoo them back into place: a real-life version of that scene from The Jungle Book!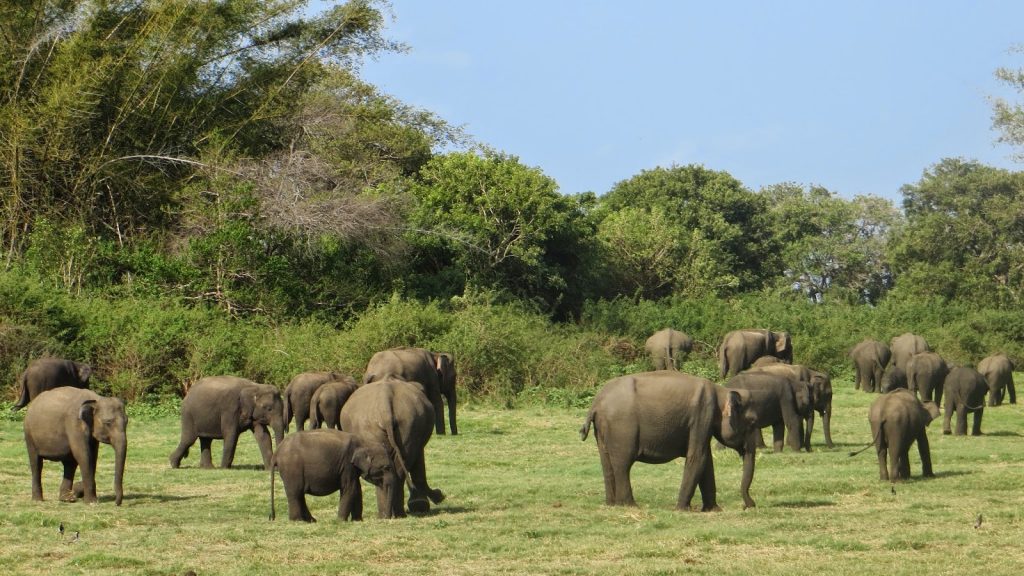 For a good hour we sat, barely moving, as more and more elephants emerged from the bush and headed for the tank. It was fascinating to watch their antics; the careless playtime of the calves who frolicked under the watchful eye of their female carers; the massive lone males that fed solitarily at the water's edge; and the juvenile elephants that sparred with each other for fun. Once, we were almost close enough to count the whiskers on a pair of elephants' backs as they wandered silently past. Although we held our breath for fear of upsetting them, elephants have become so used to jeeps in the park that they don't consider them a threat.
When the sun hung low in the sky we took our leave. We must have seen around 150 elephants in total. Gaining insight into the world of these wild elephants felt like a real privilege. I don't think there's anywhere else in the world you can experience a pachyderm phenomenon such as this. Sri Lanka truly is amazing!
Experience the beauty of Sri Lanka by choosing an Elite Haven. You can also check out more things to do during your stay in Sri Lanka.
ALL IMAGES BY MARVELLOUS SRI LANKA