Room4Dessert
If chocolate is the food of love then Room4Dessert speaks the language fluently. The softly-lit interior with it's atmospheric long bar and soundtrack of blues tracks played on a turntable, is the ultimate in romance for those who like to play it sweet.
Owner and chef Will Godfarb brings a New York state of mind to haute couture desserts and some of the best cocktails on the island. If something more savoury is required, the Spanish wine garden at the back makes for a fine place to start or finish.
Address:
Jalan Sanggingan, Ubud, Kedewatan, Gianyar, Kabupaten Gianyar, Bali 80561
Mozaic
Nothing says romance like fine dining and few places do it better than Mozaic. Another highly regarded chef, Chris Salans, is behind this innovative menu that brings a taste of Indonesia to classic French favourites.
The romantic candle-lit garden is the perfect place to celebrate love, while divine degustation menus make for memorable dinners. A list of fine wines, classic cocktails and seductive desserts set the scene for celebrations of all kinds.
Address:
Jalan Raya Sanggingan, Kedewatan, Ubud, Kedewatan, Ubud, Kabupaten Gianyar, Bali 80571
Mejekawi
The ocean speaks volume to romantics. KuDeTa and the restaurant upstairs Mejekawi are well-practised in the romance languages. Watching the sun set into the horizon with some classic cocktails is the perfect way to begin a night of romance.
Head upstairs to Mejekawi and take a table for two overlooking the ocean while the talented team of chefs take you on a culinary journey that is as crisp and polished as the dining room. Service is professional and personable and the views are legendary. The menu changes regularly and never fails to impress while the wine has been carefully considered to create a perfect match.
Address:
Jalan Kayu Aya No. 9, Seminyak, Kuta Utara, Seminyak, Kuta, Kabupaten Badung, Bali 80361
Settimo Cielo
The Italians have always known how to speak to romantics and Settimo Cielo is the perfect choice for those who want to find a quiet corner to celebrate over hand-crafted pasta, Italian-inspired meat and fish dishes and desserts that are romantic without being too sweet.
Rustic, yet refined describes the menu and the intimate dining room. A great bar that will turn on the cocktails for a celebration, and a wine list that won't break the bank is something you've got to love.
Address:
Jl. Pangkung Sari No.10X, Seminyak, Kuta Utara, Kabupaten Badung, Bali 80361 at The Layar Designer Villas & Spa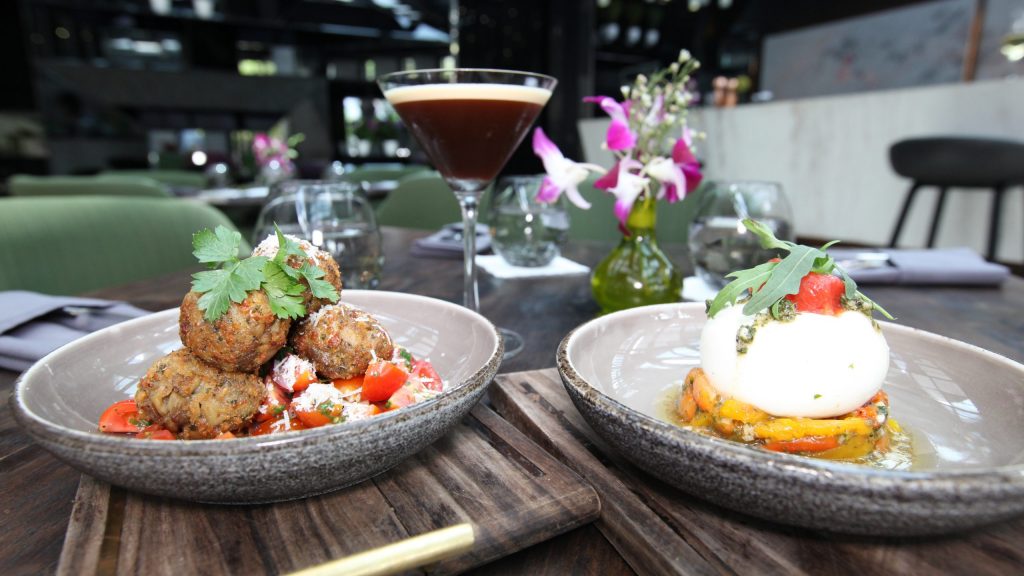 Kura Kura at Oberoi
The Oberoi is a graceful resort in Bali where every corner of full of romantic possibilities. Kura Kura at Oberoi is housed in an open-air gazebo with views across the beautifully lit resort, it is romantic, serene and memorable while choosing Chef Enrico's suggested menu is a revelation.
It's easy to find a quiet corner to simply enjoy a private chat or celebrate romance at Kura Kura. An a la carte menu is offered as well for those in search of a more casual dining experience, with Indian, Indonesia and Western choices.
Address:
Jalan Kayu Aya, Kuta Utara, Seminyak, Kuta, Kabupaten Badung, Bali 80361
Ultimo
Perhaps your budget isn't as large as your love story, so a well-priced Italian is always a good choice. With candles and live music setting the mood, and a menu filled with Italian favourites, Ultimo will not disappoint. Your choices range from delicate ravioli to tender, flame-grilled steaks and some light and pretty seafood dishes, all are sure to impress your date.
Choosing to sit inside, or under the moonlit terrace, your night will be magical, especially with their wide range of wines to choose from. The experience would not be complete without sharing a decadent Chocolate molten lava cake with your loved one.
Address:
Jalan Kayu Aya No 104X, Seminyak, Kerobokan Kelod, Badung, Kabupaten Badung, Bali 80361
Metis
Without the French would we even have romance? Metis has earned its place as a Bali classic and with very good reason, the food is always a celebration and an award-winning wine list adds subtle notes to a menu of classic French dishes.
Start with oysters on the shell or go for decadence with their signature foie gras, sautéed and piled high with caramelised apple and sprinkled with a raspberry vinaigrette. With a glass of bubbles, this is love on a plate.
The menu goes on to include lobsters, chateaubriand, duck confit and it goes without saying that desserts are seductive, rich and truly memorable. Book ahead for a private, candlelit table.
Address:
Jalan Petitenget No. 6, Kerobokan Kelod, Kuta Utara, Kerobokan Kelod, Kuta Utara, Kabupaten Badung, Bali 80361
Bali is recognised as one of the most romantic places on earth, so when a special occasion comes around, there is no shortage of beautiful places to celebrate.